Become independent from global supply chains
In the middle of production, the machine suddenly stops and nothing works. The reason? An important spare part is missing. But it can take a long time for it to arrive. Delivery times are difficult to calculate, especially at the moment, due to lack of availability and disruptions in the supply chains.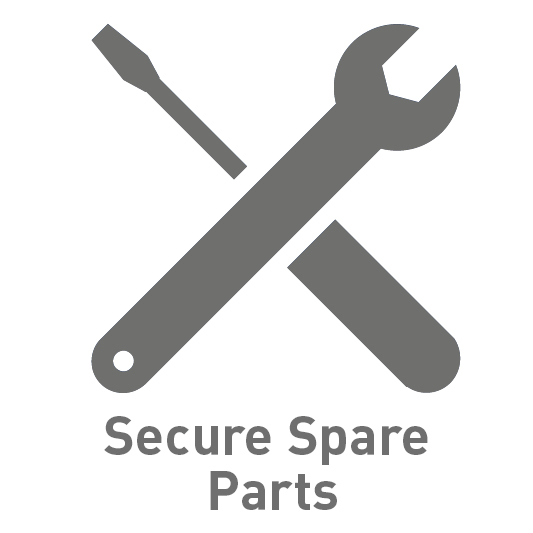 Our advice: Keep an eye on all risks and prepare for the worst! Don't wait until you need a part, but order all critical spare parts now. With our new all-round carefree spare parts packages, nothing stands in the way of seamless production. Depending on requirements and plant size, these consist of up to 40 important original spare parts, including size reduction knives, agitator tools, filter elements, drives, scrapers, special sealing rings or temperature sensors. If hoarding is worthwhile, then it is in this case. As the saying goes: better safe than sorry.
The advantages of our spare parts package
INDEPENDENCY

Independence from availability and delivery time

At the moment there are always long waiting times for spare parts. We already define together the most important spare parts for you and order them. This makes you independent of delivery problems or lack of availability.

SMOOTHLY

Smooth operation

Ensure that you can resume production as quickly as possible at any time by keeping all critical parts in stock.

EFFICIENCY

Costs always at a glance

With our spare parts package, you avoid prolonged machine downtime, which can affect the entire production and result in significant costs.
ASSEMBLE YOUR SPARE PART PACKET
Let Proxes put together your spare parts package and be prepared for any problem.
GLOBAL CUSTOMER SERVICE CONTACT:
Your contact person for Customer Service:
FrymaKoruma:
Michael Börner
+41 61 836 41 23
Stephan:
Walter Neufeld
+49 5151 583 186
Terlet:
Walter Neufeld
+49 5151 583 186